Destination Wedding in Bali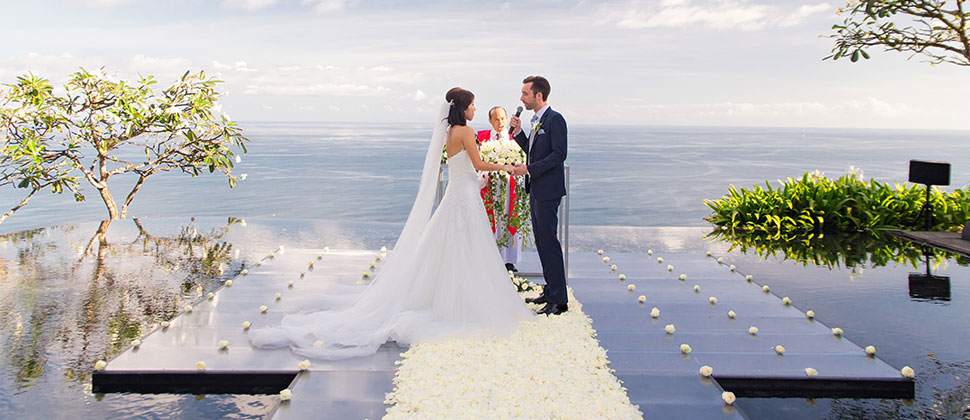 Bali, with its varied landscape of hills and mountains, rugged coastlines and sandy beaches, lush rice terraces and barren volcanic landscape elaborate the definition of paradise. Bali is truly the complete package of aesthetically pleasing elements which comprises nearly deserted beaches, distinct culture, and mountains, rice paddies, and jungles.
Bali makes the perfect venue for an unforgettable destination wedding. The size and geography of Bali give you flexibility in choosing a suitable venue for you and your guests. And then our highly proficient team of wedding designers who are having the smart skills to plan and manage your wedding while putting elements of beauty and magic. With creative and logical thinking we throw you a stunningly beautiful and flawlessly organized celebration of love through your wedding in Bali.
Destination Wedding in Bali Means a Fairy-Tale Wedding
Resorts and tourism-based businesses at Bali understand the significance of a wedding very well and make it their concern to keep destination weddings stress-free and simplistic. They may offer complimentary services which will help you regulate the wedding ceremony smoothly. They serve as your concierge for the duration of your stay and may plan activities for your guests such as sightseeing, scuba-diving or any other sports, or shopping.
While there are many cities which provide ample options for wedding ceremonies, the charm of a destination wedding in Bali, a beautiful tropical island is still unchallenged. It comprises sandy beaches, lush green jungles, hidden caves and exciting cliff tops. Besides all these elements we still can't describe the beauty of picturesque Bali, which will easily turn your wedding into a fairy-tale wedding.
Wedding Services
Testimonial
Copyright© V3 EVENTS & ENTERTAINMENTS PVT.LTD 2018, All right reserved.