Destination Wedding in Jaipur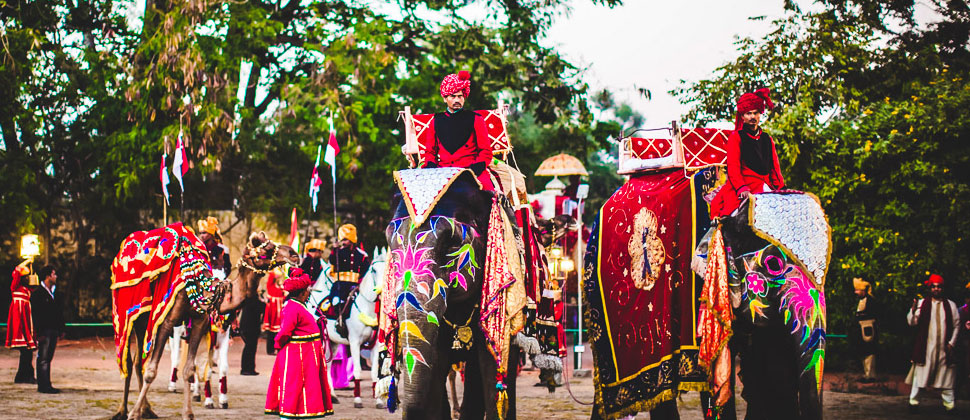 Whenever we think about Jaipur as a wedding destination a grand picture of royal and elegant wedding captures the mind. This architecturally opulent city of India is one of the most sought after destination for the wedding in India. Being an enchanting city, we hardly find any reason to not choose Jaipur as a destination for your dream wedding.
The city of Jaipur seems to constitute an old charm which makes your wedding an unforgettable event in a pleasant way. If Jaipur is in your mind for organizing your dream wedding, then connect with V3 Events & Weddings, so that we can make your dream of having a fairytale wedding true.
Destination Wedding in Jaipur Means Having an Exotic Wedding
A destination wedding in Jaipur is something beyond just relief from fast flowing urban life. You get a chance of getting married amidst a rich cultural environment and heritage of India. A huge number of couples from the current generation, crave the historical quotient along with royalty and traditional vide by having a destination wedding in Jaipur. This city is having all the essential elements which transform a wedding into an exotic affair, whether it is the colourful clothes and fabrics, royal palaces and heritage sites. Jaipur is significantly getting popular as a distinct destination for something as spectacular as a wedding. Let our team of prominent professionals offer their expertise to the finest details in making a wedding, a regal and memorable affair.
Wedding Services
Testimonial
Copyright© V3 EVENTS & ENTERTAINMENTS PVT.LTD 2018, All right reserved.