Destination Wedding in Shimla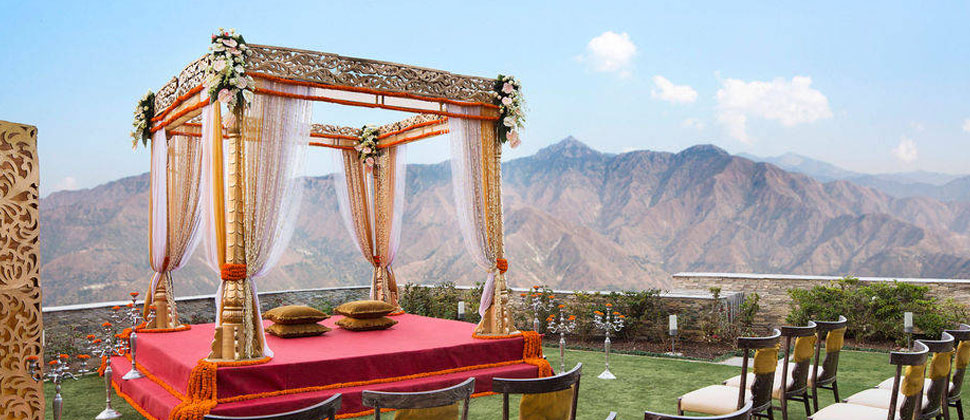 Shimla is an ideal year-round location with the awesome natural environment for destination weddings. Being covered with towering deodars and lush green fields, the Shimla is one of the most sought-after wedding venues in the lap of the Himalayas The mild climate with the fragrance of raw nature and fresh mountain breezes makes Shimla the perfect destination for having your dream wedding organized.
The wedding designers teams at V3 Events & Weddings works to execute your wedding event flawlessly. Our expertise can be utilized to make significant suggestions on how to enhance the ambiance, cuisine, beverages, and entertainment during the wedding ceremonies.
Whether it's a small function or a full-fledged destination wedding, Shimla is the place where unforgettable moments are made with our assistance.
Destination Wedding in Shimla Means Having a Fairy-Tale Wedding
Shimla is an exotic wedding destination where the couple can enjoy their wedding amidst of a stunning panoramic view of the majestic Himalayas. This city offers you an ideal mountain and forest background where the married couple can be guaranteed that their guests will be enchanted by the exquisite and crisp feeling of the wedding event. Shimla gives your wedding a complete royal touch of nature and the stunning backdrop of the Himalayas.
As the truly professional and experienced wedding planners, we strive to make every wedding unique and harmonious to craft the unforgettable wedding moments for the guests and being a picturesque venue, Shimla makes it very easy for us.Get your dream wedding organised in Shimla which will certainly mesmerize your family and friends while making it an extraordinary wedding experience for all.
Wedding Services
Testimonial
Copyright© V3 EVENTS & ENTERTAINMENTS PVT.LTD 2018, All right reserved.